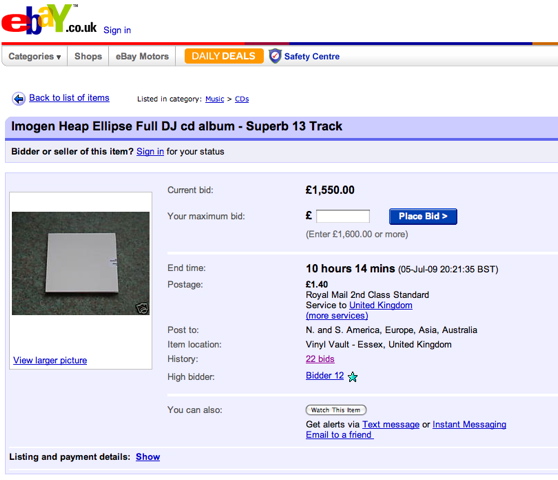 There's an interesting scenario unfolding over at eBay. A record seller listed a DJ pre-release copy of Imogen Heap's forthcoming 'Ellipse' album, with an unopened seal. Large record labels often make a few hundred copies of upcoming albums to distrubute to DJs and journalists, giving them time to preview the album and build excitement. It's often supplied with a 'seal' with the name of the recipient on it, along with a warning that it is traceable back to him/her, to stop people trying to cash in on it. This album was sent to one James *ooter, a writer for Da**cer (this is all you can see from the photo but the rest is not hard to work out.)
But someone brought this item to Imogen's attention, and in the early hours of this morning she flagged the violation to eBay, meanwhile creating her own eBay account so she could bid for the album herself. Ironically eBay initially wouldn't verify Imogen's credit card! But once they did she placed a maximum bid of £2,000,000. The bidding is at £1,550 right now but It'll be interesting to see how this plays out.
For as long as I've been in the music business (30+ years) I've seen DJ copies of my own music showing up in bargain bins and record collectors' stalls. I remember around 1980 that Columbia in New York used to have an open drinks party every Friday for DJs where they would play new releases and the DJs could leave with an armful of 12″s. Later on the same day the DJs, all friends, met up again at a record shop on 8th street where they would turn around and sell the 12″s, netting perhaps $200 each. The cost of these pressings, and the party, and the salary of the label's independent promotions people, are all deducted from the artist's royalty statement before any royalties are payable. So instead of coming out of the label's ~80% share of the revenue from record sales, 'marketing' expenses like this came out of the artist's ~12% share. Along with satin tour jackets, bar bills at top night clubs, and in some cases, the marina fees for some radio programmer's speedboat.
It's not just the artist that suffers: it's also the general public, because the Industry has been run so inefficiently that record and CD costs are unnaturally high, while many good artists never get signed or promoted. In a way it was in the Industry's interest to keep it that way, because it made more manageable and predictable a business that is actually based on the magic of music, and the chaotic nature of the public's musical tastes.
Personally I dislike many music journalists because they are lazy, ignorant, prejudiced, and elitist; cowards who give the artist no opportunity for recourse, and often not great at spelling and grammar. (There are exceptions of of course!) But whatever you think of the average professional music critic, you can't condone one who also cynically lines his own pocket at the artist's expense, not even bothering to break the seal and listen to the album. In so doing he perpetuates the same stagnant and corrupt system that has existed for decades, and which is only finally starting to break down now that the big record companies are not the only game in town.
Members of Parliament are resigning left right and centre because they fiddled a few quid on their expenses. IMO if this journalist James *ooter is selling stolen property on eBay, of via a 'fence', he should not be allowed to keep his job, or ever to work again as a professional writer.