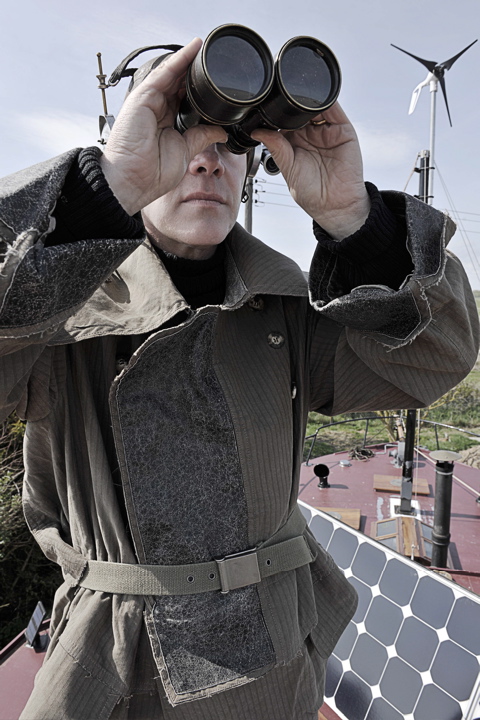 Hello chaps, and chapesses. I've been too busy to blog for the last couple of weeks, but lots to report.
The main preoccupation has been getting ready to release 'Singular' next week, and 'The Golden Age Of Wireless' and 'The Flat Earth' re-releases about 5-6 weeks later. All packages are now complete and I can heave a sigh of relief. Even though the music is back catalog, there's a heck of a lot of work involved. Firstly there's the audio remastering, which I oversee though it's done at Abbey Road by Peter Mew. I think they sound really good. Okay, vinyl has its fans, but it was always a pain to master to. Modern analog to digital converters are a vast improvement on the ones used to make the original CDs in the mid-90s. There's the worry about the current tendency to use predictive limiting on CDs, which boosts the apparent volume at the expense of dynamics and subtlety. I wasn't interested in that, just in maximising the clarity, and levelling out volume and EQ of the 'bonus tracks' (more on those later.)
Next, the bonus tracks. Don't want to spill the beans yet, so I'll publish a GAOW and TFE full track listing presently (or in fact Amazon might pip me to it once they get the official pre-release blurb from EMI.) I've included all peripheral songs from each era that didn't make it onto the albums for whatever reason; a couple of songs I wrote for movies; a handful of original low-quality backroom demos, which are pretty comical; and two live songs. I've never been prolific by most standards, yet I found I had enough choices that I had to leave some stuff off—so I'm going to make the extras available as free downloads from my web site. In general I avoided 12″ mixes, because often those were just re-edits of the album versions, and not worth taking up space with.
Then there's the sleeves. Job one is to get all the credits straight, combining original credits with new ones, and sorting out who played what on the bonus tracks. And those musicians had to be approached for their consent (nice to touch base with a few people I haven't talked to for years like Justin Hildreth and Lyndon Connah.) In some cases the master recordings belonged neither to me nor to EMI, in which case the copyright owners had to be tracked down—not easy given the continual cannibalism of the music industry. Next, I wrote some notes and reminiscences about each and every track on the two albums. I had to verify facts, then edit them enough so that they fit within the layout of the 8-page booklet in each CD. I worked with art director Scott Minshall to go through old photo libraries, pick out stuff I liked, then find the photographers and get their approval; Scott did some layouts and we iterated a lot on fonts etc. The GAOW release includes a DVD of 'Live Wirless', an entire concert from that era; so of course there were the menus and interactive aspect of that to work on.
To enable listeners to download additional material from the site, Webmistress Carli (aka Lunesse) came up with a scheme that lets all registered Forum members get free access. There will be lyrics and additional song downloads there. I think there's going to be quite a lot to discuss so it made sense to put the content within the Forum where new fans can interact with long-term Flat Earth Society stalwarts. Naturally, I'm hoping these re-releases attract a new generation of people that were too young or not yet born when they first came out. Then when I put out my *brand new* album (hopefully within the next year) I'll have a solid base of listeners.
In all, I've done probably more admin and editing work on these re-releases than I did when the albums first came out. In those days there was a much bigger team of pros to take care of things, and I was off doing promotion and touring. I don't mind it though, I try to give it a personal touch and make the products as good as I can. 'Singular' was always intended to be a low-budget way to give some new fans access to my old singles, and as such will not appeal to some long-term fans, but GAOW and TFE are beautiful collectors' editions that include rare material, and I think they will be terrific value for money.
I've also been doing some interviews for the releases, such as a piece for The Word, and I shot a new press photo session here at the Nutmeg of Consolation with Richard Skidmore, who took the pic above. I'm also Guest DJ on a podcast by a very well-known publication, which should be out on Tuesday, the day Singular hits the stores.
So now I can exhale and get back to my recording. A lot's been going on on that front too, which I will tell you about in my next blog.
Ciao!