As requested by numerous personages, here are some pics of my rig. Get ready for a full-on geek attack!


My keyboards etc… L to R: M-Audio TriggerFinger, CME 7 MIDI keyboard, 7″ VGA touchscreen, Novation SL 25 MIDI keyboard; on electric keyboard stand.
Approved Signal Generator retrofitted for MIDI
Virus TI Polar and 1947 (?) USAF signal generator retrofitted for MIDI.
My rack: Nord 3 Rack, Shure P4M keyboard mixer, ART DTS II mic preamp, ProSonus Firepod, MOTU Express 128 MIDI interface, Roland JV-1080 synth, Muse Receptor, QSC 400×400 amp, Juice Goose power conditioner, APC uninterruptable power supply.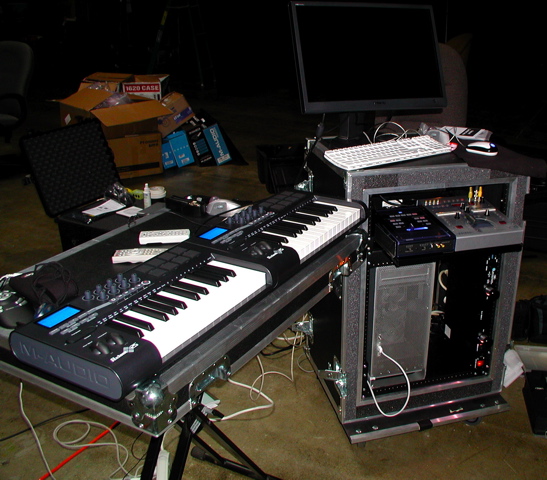 Johnny Dekam's video rig. I don't know a thing about it really other than he has a Mac G5 that's MORE POWERFUL than mine, grr. I must remember have Johnny to explain his setup in a future blog.