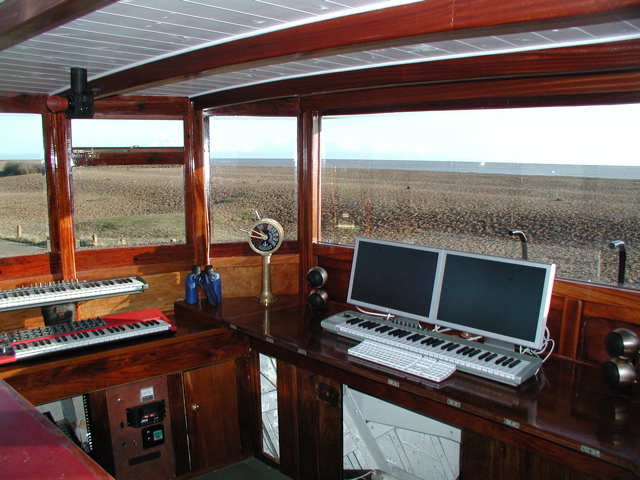 This is the view from inside the Nutmeg's wheelhouse. Well, about a quarter of it actually—the vista towards three out of four points of the compass is completely uninterrupted.
I'd like to tell you about the timber we used. Most of it is reclaimed from one place or another. It's very hard to source good quality marine hardwoods these days. You can get very expensive new teak and mahogany, but its color is not a rich as the older timber, and most of it comes from dodgy countries like Burma where the military junta is systematically denuding the forests. The small islands in the Indian Ocean from which the best mahogany comes, have long since been stripped to bare rocks. So I had quite an adventure scouring eBay (and the English countryside) to find the good stuff. Here's a breakdown:
–The panelling of the new wheelhouse is made from the mahogany doors to lockers in a boys' boarding school that closed down.
–The main worktop is a mahogany counter that came from a science laboratory. It has numbers along the rim, presumably to mark out different experiments?
–The upright beams once made up the bannisters to a staircase in a grand hotel.
–The trim is of a beautiful wood called jarrah. I came by a quantity of this with help from a Forum regular named Bawdsey Buoy. He and I went exploring down a former RAF cold war control bunker one night, and found a pile of old floorboards made of the stuff, that was due to be dumped in a skip!  We asked the owners if they would donate it to my lifeboat, and happily they agreed. Jarrah comes from the North West of Australia. It's a relative of teak but more brittle. Apparently, convict ships used to fill up with it for the trip back to England; and in the days before paved roads, market towns used to line their streets and town squares with it to keep the merchants' carts out of the mud. Over the years a lot of it ended up being used as floorboards in mines too. When we found it, it was dull greeny grey. But after machine-planing it, then many coats of varnish, it came up a fantastic deep reddy brown color, with a lovely grain to it.
There's some new sapele and pine tongue+groove in there as well, but about 80% of the wheelhouse is reclaimed wood. The previous wheelhouse was much smaller—where the inner edge of the worktops is, that was the perimiter of the old wheelhouse, with a walkable deck running round the outside.
I'll write more about my carpenters and the boatbuilding process, as well as my equipment and wiring choices—the latter being a work in progress, as I have yet to decide exactly what I want in the studio!