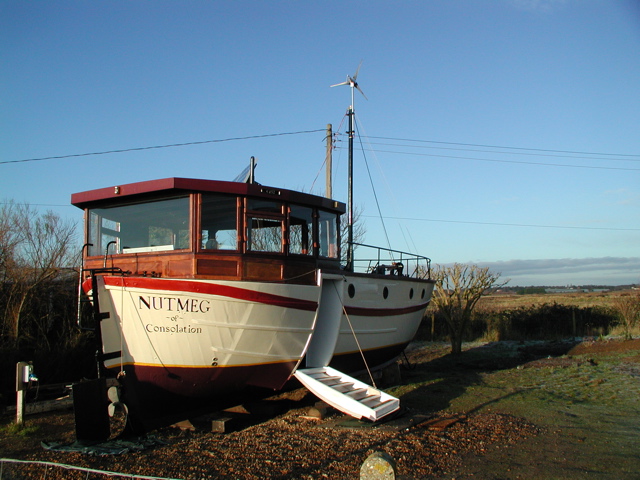 I'll take a series of pics over the next few days and write about different aspects of the lifeboat.
She was built in the 1930′s as one of a pair of ship's lifeboats aboard the SS Queen Ann, a British merchant vessel serving in the South Seas. If you look at the red stripe down the side, this was her original gunwale: the deck was added in the 1960′s and we built the wheelhouse this year. In the 30′s she would have had a sail, oars and small paraffin engine. It's carved on her bowpost that she could hold up to 99 souls. The SS Queen Ann was damaged by a German torpedo early in the 2nd world war, and then had a collision on her way to be fixed in the USA, and was subsequently scrapped. After that the lifeboat went to the Netherlands, and may have been converted there to a seagoing liveaboard vessel. At some point she transferred to the UK and was moored for many years on a canal in Nottingham. She has a wood burning stove, galley and hot water head/shower, as well as 'shore power', hence was a very comfortable liveaboard.
It seems the boat was either damaged by banging against a mooring, or perhaps dried out regularly on her side at low tide, because she has a lot of rot and weak timbers on her starboard aft hull. The woman who sold her to me (whom I'll call Paula) had thought she was getting a seaworthy boat, and was very upset when she took on water. The cost of replacing all those planks being prohibitive, she decided to put the boat up for sale on eBay, and failing that, to burn her and sell the very nice brass fittings and portholes. She drove me down to see the lifeboat, which was on blocks in a farmyard outside Reading (about as far from the sea as you can get in England!). She told her boyfriend to show me the boat, and refused to get out of her car. "I can't look at that boat", she said, "it breaks my heart." She'd blown her dad's inheritance money on the lifeboat and was devastated to have to sell her. Her boyfriend let slip that were planning to burn the boat if I didn't buy it. I could not let that happen, and it cleearly wouldn't take a lot of cash for me to take her off their hands. And in any case, she was by far the nicest of the 10 or so boats I'd looked at, so I snapped her up and hired a lowloader truck to bring her to my home on the Suffolk coast. The transportation was quite a lot more than the purchase price, but I felt it was justified so I could rescue this lovely old boat.
After several traditional boatbuilders had told me her dry rot would require her to be totally stripped down and rebuilt plank by plank, I hit on the bright idea of knocking a door through her starboard side, and building a strong doorframe to support her. This would also give me easier access from the house. The next stage was to come up with a good design for the door itself, and this caused us quite a few headaches. I'll blog about those next time!
By the way, I have sent some photos of the restoration to the previous owner Paula. I hope they make her happy, not sad. I'll let you know if she responds!