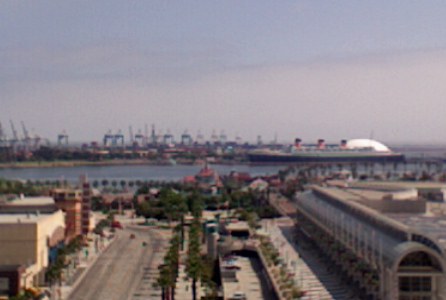 I'm in Long Beach, CA for meetings about next year's TED Conference, which is moving to its new home here from Monterey next February. From my hotel window I can see the Queen Mary (memo to Steve Jobs: MacBook webcams don't snap very good long distance shots!) Oh, and now I notice it's reversed, isn't it? Kathleen and I once stayed the night on board the QM, after playing a Lost Toy People gig at the Spruce Goose flying boat (its former domed hanger is pictured behind the QM). Tonight I'm going to meet up with my former video crew Johnny Dekam and Bree Edwards, just back after a year-long Dream Theater tour, and we're going to sample the Observation Room bar on board the old steamer.
Behind that is the bay where I used to windsurf when I lived in LA. Given where I sail now on the North Sea it seems a bit cruddy that I used to sail here. But actually the water beyond the breakwater was relatively clean. I never caught anything, but I did once nearly hit a suitcase!
Tomorrow, I'm off to Toronto where there's an event called NxNE going on, and they want me to do a days' worth of interviews because The Sole Inhabitant is being released to retail in North America on Invisible Hands Music. I know it seems odd that this is coming out now when it's been available on the Net for two years. But it was never in retail stores here, and now it seems a couple of chains want to pick it up, in a version called 'Deluxe'—which means the CD and DVD are both in the same package.
Oh and more news: I recently agreed terms with EMI to re-release my first two albums! Looks like they will be in some sort of 'enhanced' format, possibly including alternative mixes and B-sides. This should happen early in 2009. But it's not to take away from Job #1 which is my next album. I'm working away at that and have some nice new songs on the boil. It'll get easier when I finish my lifeboat studio, which is going to be great but is coming along slowly—no big surprise for an old wooden boat.