I just found out an amusing fact about Radiohead. They met while attending Abindgon School in Oxfordshire. I was there too! I took my A-levels there (ok since you asked, I got a B in French, a C in English, and I went to the pub during the History exam). My family at that point lived about 3 miles outside Abindgon, as my father was an Oxford professor, but after being at boarding school in London for 3 years I was a real REBEL and demanded that I move to a local school where I could be a day boy. So I was at Abingdon from 1975 to 76, approximately, and left not long before my 17th birthday to go and get a job in a fruit and vegetable shop. Of course, I was Tom Robertson back in those days. Someone needs to list me as a famous alumnus in the Wikipedia entry about the school! Screw Radiohead being the only famous people to have gone there, along with Zippo the Clown and a rowing cox called Nicholas Bradie.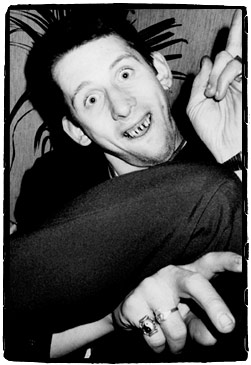 Oh and another curious thing, while I'm on the subject of famous shoolboys. At my previous school in London I was good friends with Shane MacGowan, of The Pogues. He and I used to sit together in the back row of English Lit. He was extremely smart. On one occasion during a boring reading of some classic novel or other, the teacher spotted me and Shane nattering. He singled me out saying something like 'what figure of speech is "indubitably"…. Robertson?' Shane whispered under his breath: 'It's an onanism.' Ha. 'IT'S AN ONANISM, SIR!' I blurted out. Deadly pause. 'Robertson, please come up to the front of the class, take down the Oxford English Dictionary and read out to the class the definition of the word onanism.' Which I did. Much to the delight of Shane and the rest of the class.
Shane was the most knowledegable kid in school about rock music. A gang of us used to sit all afternoon in a cafe a few streets away from the school, drinking tea and smoking Woodbines, talking about progressive music like Yes, Genesis and Soft Machine. We also loved the Allman Bros who we considered raunchy and Steely Dan who were jazzy, experimental and rebellious. One day—this would have been around early 1975—Shane walks in to out cafe with a scowl on his face. 'That's all CRAP!' he spits out from between his already rotten teeth. 'The Beatles—bloody Pink Floyd—they're just a bunch of old FUCKS!'
You could almost hear the collective gasp. How could our music guru possibly utter such sacrilege! We were shocked and upset. Well, who should we be listening to now then, we asked? Shane listed a bunch of bands we'd never heard of, though we'd sure enough rush off to Oxford St later to find them at the Virgin Records shop, where you could sit in an aircraft seat and listen to any album on headphones. 'The New York Dolls. The MC5. Johnny Thunders. Wayne County. That's the new stuff! Fuck the old fart bands!'
Of course, Shane's proclamation was a barometer of the era we were about to live through. Rock music had indeed become staid and self-important. In the mid-1970′s merchant bankers were getting monthly subscriptions to Rolling Stone magazine. It was high time some new kid with a different hairdo, a new cut to his jeans, and a menacing snarl to his lip, came along and shook us all up. And that kid was Johnny Rotten, who appeared on the scene about a year later. The collective intake of breath could now be heard all over the nation. I can remember the review of a Marquee gig by the Sex Pistols in NME: 'Who do they think they are? They played too loud and too fast while this Rotten bloke spat and sweared at the audience, kicked the monitor, and walked offstage half way through the set. Have young people today no respect for rock music?'
I only saw Shane once after we left school. I bumped into him on King's Rd in about 1979. He was by then a famous figure in the London punk scene, and he was getting his photo taken standing next to some tourists. He was in bondage trousers and safety pins (I don't remember what I wearing but in those pre-New Romantic days before the start of the 80′s it was probably a Demob WW2 suit and a fluffy shirt.) It was clear Shane and I had grown apart. He told me he was forming a band of his own. I was not surprised, though I had never suspected he had any singing talent. What kind of music was his band going to play, I asked? 'Sorta punk folk,' he said. I suppressed a giggle. That'll never work, I thought! Wrong again.
Never underestimate Shane MacGowan. I should have learned my lesson with the Onanism thing.