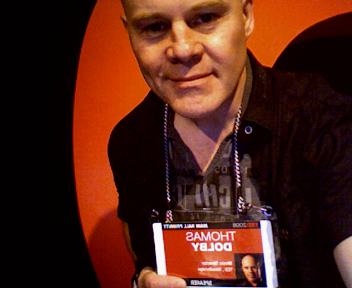 I'm up on stage here at TED, and the show starts in a little under four hours. I'm surrounded by Hydrogen- and biodiesel-powered cars, tactile displays and dozons of plasma screens. Everything looks very beautiful this year. The main stage has been transformed into a private library thanks to Jay Walker who loaned us his fabulous collection of old books and oddities, including—wait for it—a real Sputnik! I've never seen one in the flesh before. He bought it on eBay. I wish I could take more pics but right now I am without any camera or cameraphone, as my Sidekick has refused to work in the US after seven months away. I'm going to nip out in a minute and pick up a cheap one with Bluetooth, then I'll be able to add some more pics.
Mark and Rufus had a horrible flight out—two plane changes, each time being told they would probably miss their connection and they certainly couldn't bring those big instrument cases on board. Rufus is coming down with a cold, and by the time we finally got to soundcheck at about 8 last night he was wiped out. But we struggled through a few tunes, and it's great to be on a nice stage with decent foldback and lighting, after rehearsing these songs in Rufus' attic! Everyone is feeling confident and though 11 pieces is a lot of info to keep in your head, we do have the luxury of a dressing room with a practice amp where we can run each piece before we play it.
Bumped into Mike Rubin in the lobby, my friend who just had the stroke. Glad to say he looks remarkably well and is only numb down one side of his body. I have yet to see David Hoffman, but I understand he's going to give a 3-minute talk about the fire that destroyed his studio. He's making a documentary film about it! Typical. The man is unstoppable. As for me my leg is feeling a lot better and I'm trying to walk without a limp, as instructed by my physio.