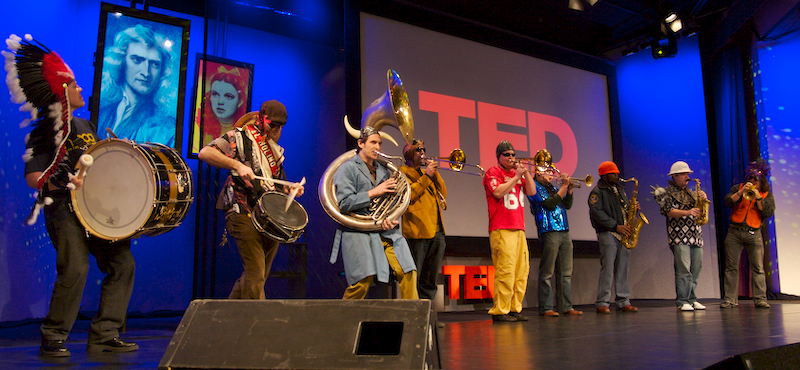 (Photo: Robert Leslie)
I'm in SoHo, New York. Today I'm shooting an interview for a PBS piece called The History of Recorded Music, followed by a few days of rehearsals with my TED house band. The TED Conference begins in Monterey next Wednesday, and I'm really looking forward to it. I realise that the majority of people reading this will not be able to experience TED first hand—it takes $6000 and a referral from an existing TEDster, and it's nearly sold out through 2009!—so over the next few days I'm going to tell you a bit about the event, about the music I play there, and about the other guest musicians who we bring in.
TED stands for Technology, Entertainment and Design. It's a four-day conference that has taken place every year in Monterey, California since the 1980′s. Roughly 1200 people attend, of whom 50-60 are speakers or performers. In recent years we have started putting TEDtalks online for free, enabling millions of people to hear the amazing speakers for themselves. It's great that this event can now be shared with anyone who's interested. But nothing is quite like being there in person.
At TED, there's a constant stream of stimulation. It begins at registration with an amazing rollaboard 'goodie bag' stuffed with cool books, Martini miniatures, glider kits for your kid, and vouchers giving you free membership to subscription-only web sites; occasionally even a snazzy PDA or cell phone. The sense of being pampered continues through the whole four days, with beach parties, receptions in the Monterey Aquarium, and delicious lunches sponsored by the likes of Nokia and BMW. This cushy treatment is perhaps the residue left over from TED's early days when it was primarily a very exclusive, hedonistic meeting of rich Silicon Valley types and speakers who were lucky enough to be invited by TED's founder and previous owner, Richard Saul Wurman.
Under TED's current curatorship—Chris Anderson took over the conference in 2001—it's subtly taken on a new personality. TED remains a delight for the senses, with its trademark eighteen minute talks by some of the most innovative and brilliant people around. Often these are the men and women of the moment: you saw Al Gore there giving his ecology speech right before the release of 'An Inconvenient Truth', and 'Freakonomics' co-author Steven Levitt, before his book hit the top of the bestseller lists. What's changed is the way speakers and content are selected. Chris' editorial skills come from his years as a journalist, editor, and then owner of a stable of paper and online publications. Without imposing his own morality, he's managed to inject TED with a sense of purpose that was missing before. This has not been universally well received by long-time TEDsters. Inevitably, a handful felt they shouldn't be paying the hefty registration fee just to jump on someone else's philanthropic bandwagon. But these people have tended to drop away, and their seats taken over by a new generation of TEDsters who are very keen to find ways to make a difference. And TED offers myriad ways to do that, not just during the four days of the Conference, but in the intervening months. A big part of this is the TED Prize, which is awarded each year to three people seen to be doing something worthwhile to change the world. The winners are selected by a very esteemed committee, and as well as a cash grant, they are promised the full leverage of the TED community to help make a wish come true. Take a look at the list of past prizewinners (including Google fellow Larry Brilliant, Bono, and architect Cameron Sinclair) and follow the history of what happened to make their wish come true with the help of the TED audience's resources. It's remarkable how much can be achieved by a strong will and the support of a community, without any help from governments, churches or corporations.
So what's the role of music in all of this? Well, imagine this: the TED program is so jam-packed with mindblowing ideas and intellectual stimulation that it's easy to get a migraine. A day at TED is a rapid-fire barrage of brilliant speakers with eye-opening ideas. You need to take a break every now and then to process what you're hearing, and to allow your own brain and body to formulate a response to what you hear. It's not practical to offer 10 minute shiatsu massages to 1200 people, so we try to do the same with music. Each year we find three or four outstanding musical performers, both unknown talents and world renowned stars, and give them each a slot in among the other speakers. We don't have the time or the stage real estate to put on fully electrified performers with drums, amps and so on, so we tend to look for people who can delight the audience with just a piano or guitar, their own voice, and their storytelling. We favour artists who write interesting songs with lyrics the TED audience can relate to, perhaps with some oblique relevance to the rest of the proceedings; but we hold short of using the music slots to bombard the audience with yet more opinionation. Politics are a no-no for speakers as well as for musical artists. But the best TED musicians, as well as the best speakers, are able to captivate the audience by letting their defenses down, taking the lid off what they do, and singing simply from the heart.
What makes this event so special is that the performers and the audience find common ground. Even people from completely different walks of life find so much to reflect on their own experience, mirrored in that of someone else up there on the stage. And at the breakfasts, lunches and parties, or lining up for a cappuccino at the Google Cafe, I often find myself rubbing shoulders with one of the speakers I just saw—a National Geographic explorer perhaps, or a private-sector astronaut—and guess what, they are more interested in hearing about how I got that drum sound in the last intro piece I played, than in sounding off about their own subject.
A friend of mine James Horner, composer of the amazing scores for 'Titanic', 'Apollo 13′ and 'Braveheart', came to speak at TED a couple of years ago. He sat through two days of other talks, then came to me rather distressed, wondering what on earth these brilliant people could possibly see in what he described as his 'little backwater' of the entertainment world. An hour later he was up there on the stage, with the audience in the palm of his hand. He showed a clip of the famous love scene on the prow of the Titanic, but without the music. He told us this was how a film looked when it first came to him. Then he wandered over to the piano and started to noodle around with melodies, explaining what he looks out for in the picture and how he punctuates it. He pointed out that the most romantic moment was not the kiss itself, but Leo's hand cupping the back of Kate's hair. And as he noodled, the familiar love theme started to emerge. He described how he had to conduct a 96-piece orchestra while movie studio executives nagged him to make it 'less syrupy' or 'more sexy'. He was deconstructing a legendary piece of modern culture, right in front of our eyes; and when he then showed us the completed scene, an audience of brain surgeons, investment bankers, and politicians found something in James' process that resonated with their own daily experience.
Take for example Cameron Sinclair, a 2006 TED Prize winner whose innovative architectural group has helped build disaster housing in multiple continents. Often Cameron has managed to convince local communities that the funding provided to them by disaster relief organizations can be put to much better and more productive use if the community itself gets involved in the designs. Cameron has established a Wiki-style web community the Open Architecture Network where architects from around the globe contribute and add to each others' designs on a creative commons basis. For Cameron Sinclair as for James Horner, the challenge is to make something beautiful and lasting despite the efforts of charlatans to dilute their efforts.
That's the essence of TED: a cross-fertilization of ideas, that adds up to something greater than the sum of the parts. You leave at the end of the conference with a strong sense that a committed group of people actually can make a difference. I'm very proud that music plays a part in this process, as a way to 'cleanse the palate' in between the sumptuous dishes on offer over the four days of TED.
Now I'm at Rufus Cappadocia's brownstone in Brooklyn. Tomorrow we'll be joined by Rachelle Garniez and Mark Stewart, comprising my House Band for this year, and we'll start to rehearse the musical intros for the twelve TED sessions that take place between February 27th and March 1st. I'll let you in on some of the details over the next few days!
By the way Chris Anderson was interviewed two nights ago on Charlie Rose, and does a fine job of setting out his vision for TED.