I am drawn to the water. Always have been. I need to be close to it, to be able to get out onto it, and view the land from it. If I visit a new city I don't feel I can really see it until I find a way to get on the river or ocean and see it from that vantage point. If it's a city with no water–like Santa Fe, NM for example–I just don't connect with it at all. On the other hand I love Venice, which is a city made of water with its buildings rising out of the water on stilts like splendid dry docks for its inhabitants.
To make this possible, you need a boat. People have all sorts of different relationships with boats. For some they are a luxury. I like them best when they're born out of necessity.
The last time I went to Venice was with my family in the summer of 2005. A week before we were due to go my 10 year old son Graham dropped a marble paving stone on his foot and broke two bones. Venice is a city you have to be able to walk around. Even a wheelchair is not much use, because of the steps on the little bridges over the canals. We considered canceling our trip, but Graham was distraught. So I looked for a motorboat to rent. Now, in Venice they don't like tourists to rent motorboats. The locals use the canals like roads, to deliver groceries, get to work, move apartments and so on. The tourists are best confined to the water buses and taxis, or the $400-per-hour gondolas. The last thing they need is tourists playing dodgems in their streets, getting themselves drowned in the polluted waters and so on. But I managed to find a boat rental place a little out of the centre, and in broken Italian I persuaded them to rent me a boat. It was unglamourous, like a giant coffin without a lid, but it was big enough for nine people, and we set off armed with a map of the canals to find an apartment above a bakery where some friends were staying, to pick them up and make a tour of the city and the neighbouring islands.
I've done a lot of boating in my life, on several of the Earth's oceans and in all kinds of weather, but navigating around Venice in a motorboat was the most challenging seamanship I've ever had to do. Using just a flick of your right wrist on the throttle you have to find your way down tiny canals with inches to spare on either side; avoid water taxis doing 35 knots and gondolas doing 3; and parallel park into mooring spaces, with other boat drivers screaming at you. AND there's a current! Still, we saw more of Venice that day than we possibly could have done by any other means—and young Graham lay on the bow, his leg in a cast and his crutches beside him, looking up at the fabulous Medici architecture, completely enthralled!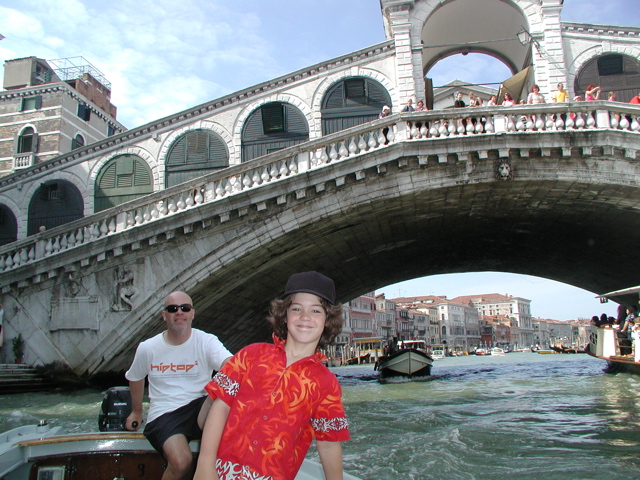 That's really the best use for a boat, in my opinion: one born out of necessity.
Why do I mention this now? Because I am close to choosing a boat to put in my garden in England and use as a studio. I've been scouring the Internet every day for four or five months. I have about 12 brokerage sites bookmarked, plus I have several eBay saved searches, so I get emailed every day with new ones as they get put up for auction. Of course, the most practical choice would be a good solid fibreglass boat that would require minimal maintenance. Light, watertight, lots of space. But will that work for me? No. Because it's the romance of an old wooden boat that makes this a fun idea.
Where we live, we're close to a river mouth. All summer long we see Thames Barges float by that are over 150 years old. We see gaff-rigged schooners and cutters and yawls, clinker-built dayboats and half-deckers, elegant Edwardian sloops and Dutch merchant sailors: all of them insanely impractical compared to today's fast plastic 'Bendytoy' cruisers. No matter how much you fancy an old 'woody', any sensible man would steer well clear of those old hulks, and get himself a practical modern boat that won't leak or sink, and that he can stash away in a barn all winter and that won't deteriorate before next Spring. But will that work for me? No, not in a million years.
I'm going to sleep on it, but I think I've found my lifeboat. She's on blocks on a farm in Berkshire, about as far from the sea as she could get, and still be on the British mainland. She's somewhat neglected—in fact the owners are planning to burn her unless I buy her this week—but she has enormous potential. A lovely mahogany interior, and a wheelhouse to die for. I'm not going to tell you any more about her until I make up my mind, but let me just say this: she is a boat born out of necessity, and if I decide she's the one for me, I will abandon myself to a whole new romance with a wonderful ship, the open sea, and my imagination a blank sheet of manuscript to fill with the soundtrack!