I'm happy to announce two new live releases over the next couple of months.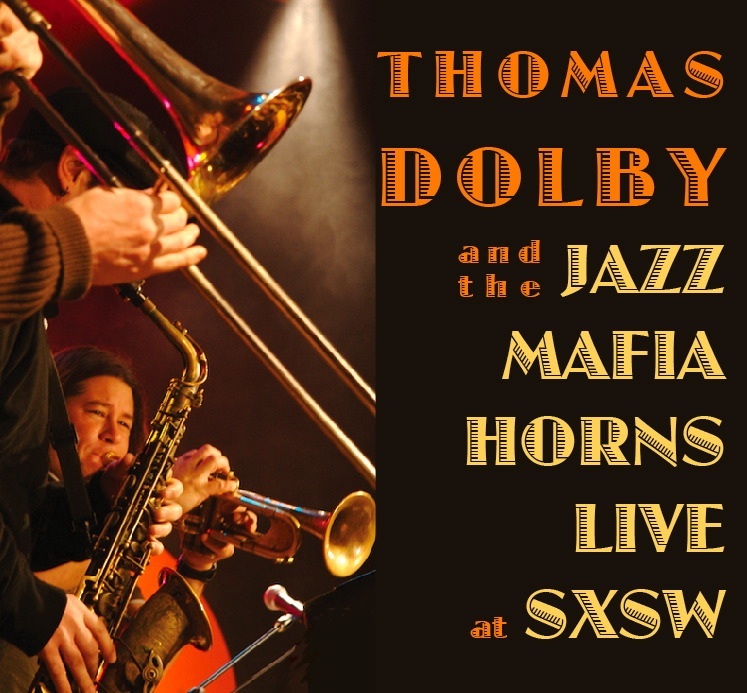 #1 THOMAS DOLBY LIVE IN CHICAGO DVD
This is the video we shot at Martyr's in Chicago on May 16th-7th 2006—the shows from which 'The Sole Inhabitant' CD audio was taken. You may have seen several of these clips on my site in podcast form, but there's been some feedback that people like this video footage better than the Berklee footage featured on the TSI DVD. It's different, that's for sure. Whereas the Berklee show was very nicely shot and edited on tens of thousands of dollars worth of high-end video gear, this footage was edited by Johnny Dekam on his laptop from the mini cams dotted around my rig (and on my head!) It has a distinctively 'noir', almost Frank Miller-like look and feel. So I decided to make it available as a DVD. Now, as many people have already bought TSI DVD, CD or both, and given that the podcasts are free, it seems crazy to ask you to pay top dollar for this item—so it'll be on sale around May 20th 2007 at CDBaby.com for $13.95, which seems like a bargain to me! As a special bonus track, in addition to the regular eleven, I've also included a live recording of 'Airwaves' featuring an ambient video mix by Johnny Dekam. This version will not be available in any other form.
#2 THOMAS DOLBY AND THE JAZZ MAFIA HORNS LIVE @ SxSW EP
I recently did a brief tour with a 3-piece brass section, the excellent Jazz Mafia Horns. While we were in Austin, TX at the annual South By South West festival, we recorded several sets and I'm in the middle of mixing the tracks that were NOT on 'The Sole Inhabitant' so we could put together this 5-song EP. Here's the track listing:
Your Karma Hit My Dogma*
The Key To Her Ferrari
My Brain Is Like A Sieve
May The Cube Be With You
Hot Sauce
*YKHMD is a new song never released in any other form. I started writing the song several years ago but only finished the lyrics last year. As you know if you came to see me perform it live, there's a neat story that goes along with those lyrics, as it was inspired by a frivolous legal fracas with a certain 'celebrity' that is well-documented elsewhere on this blog.
The 'Live @ SxSW' EP will be priced at $9.95. The artwork features great pics of me and the band taken by Michael Persson and Steve Spatafore. If you don't want the physical disc, you'll be able to save money and download the EP or individual songs on iTunes at the usual prices. Street date will be announced soon. Expect it to follow the 'Live In Chicago' EP on CDBaby.com by about six weeks.
I expect these to be the last 'legacy' releases before I transition into my new musical era. With them out of the way I'll be focusing 100% on new material. I'm very excited about several songs I'm working on already, and I'll be going to England this summer to start recording them. One day they may show up in the form of an all-new studio album. When will that be ready you ask? WHEN IT'S READY!
In the meantime, I hope you'll enjoy these two live releases.