The tour bus left Dallas early on Monday, without me on it. I had a lecture to give for Travelocity, whose HQ is there. They're having a series of interesting lunchtime speakers and contacted me asking if I'd talk about my dual careers in music and the tech world. In the event 400 people showed up and I talked for an hour and gave a demo of how I put songs together, singing two of them as a finale (see pic.)
The band and crew had made the long drive to Las Vegas, stopping over in Albuquerque. I flew direct, and arrived late last night. Checked into The Cannery, an outlying casino where our gig takes place tonight. As I drove up I spotted my name up in letters that must be 30 ft tall! They're very friendly here and have a great club and sound system. I played Texas Hold'em last night for a couple of hours and had fun but lost. Saw Johnny Dekam getting into rolling craps.
The bus is scheduled to leave Vegas tonight at 4am. After our show I'd like to go check out Prince's club at the Rio. Who knows, maybe he'll be there. I have seen him play live about 8 times over the years, he's truly one of the best performers of this generation, if not of all time. And once he actually came to see me play his old haunt First Avenue in Minneapolis! I'm not sure if it was '84 or '88, and for some reason that gig seems to be missing from StevieD's tour history.
(Later) I'll admit I felt like a complete dork standing in the street with my cellphone trying to get an angle on myself and the Cannery's 40ft billboard. I can only imagine what passersby were saying…. hopefully only "Oh that guy must be soooo excited that people might mistake him for Thomas Dolby!"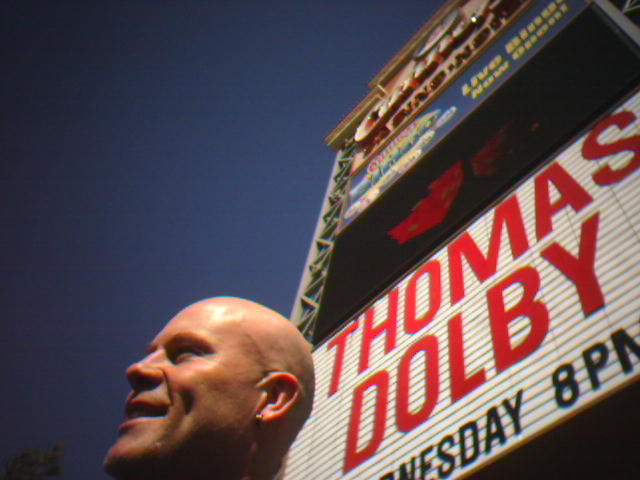 Oh, and I played Hold'em again today and won $127! I am going to try to use it to take my band and crew out as it's the end of the tour and the bus doesn't leave till 3am (hmm this is getting earlier all the time…) Sadly Prince's club has a private corporate party tonight, but maybe my friend Jonathan Deans who does the sound for all the Cirque Du Soleil shows can hook us up.