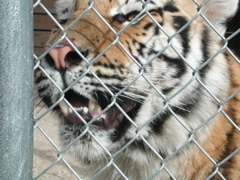 You often start off a tour with the best intentions. Stay fit, eat healthy, take time to stop at some parks and museums, see a little bit of the country. Usually the best laid plans fall by the wayside within the first week. So I dug my heels in today and took the bus 75 miles out of our route, so we could visit Tigers For Tomorrow at Untamed Mountain, a privately owned sanctuary for big cats, in Attala, Alabama. After leaving New Orleans at 2am, and crashing out around 4am (rather inebriated!) we arrived at TFT around 9am it was all I could do to get the band and crew out of their bunks. But very much to their credit they hauled themselves outside and up the short hill to the sanctuary. And in spite of our hangovers we all had a fantastic time, and made some great memories in the process.
TFT had contacted me a few months ago by posting an email to the address on this website. Amy Ausbun, a volunteer from Birmingham, AL, was contacting celebrities to see if she could increase awareness for the sanctuary and maybe raise some money by auctioning signed articles. She has had a good response from Deepak Chopra. I mentioned that our tour was coming through Birmingham today and the owners Sue and Wilbur were gracious enough to open up for us and give us a guided tour of their facility.
The sanctuary has 18 Siberian and Bengal tigers, along with white wolves, numerous lions, cougars, black leopards, a lama, camel, zebra, and even a Kodiak bear! Sue and Wilbur have only one fulltime staff member, their keeper, plus several interns. They usually only open up at weekends for school and private groups. Many of these animals have been rescued from misguided family homes; traveling shows; and even from 'Canned hunts' where a big cat is released on a private land so that a bunch of hunters can get their kicks shooting it then being photographed with their 'kill.'
The animals will be at the sanctuary for life. TFT does not do any training or breeding. It purely provides a great home for the big cats and makes sure their diets and psychology are properly cared for. Watching Sue and Wilbur interact with them is amazing. Sue 'chuffs' at the tigers–a short panting sound that they make right back to her in an affectionate conversation. Wilbur demonstrated for us an aspect of tiger instinct: standing next to the fence, behind which a tiger was laying down looking very calm, Wilbur turned his back and stooped down submissively. The tiger's eyes instantly grew the size of saucers, and it sprang up, across the enclosure, and in a flash attacked the fence behind Wilbur's back. This is the tiger's natural reaction to a show of submission. Some of them grow to 500lbs and there was no question who would have come out on top in a jungle situation. So, if you're ever suddenly face to face with a tiger, look him square in the eye!
Here are some pics Lunesse took. BT and I are going to figure out what we can do to help TFT and support the great work they are doing!
[UPDATE: we decided to donate 10% of our merch sales last night for starters.]