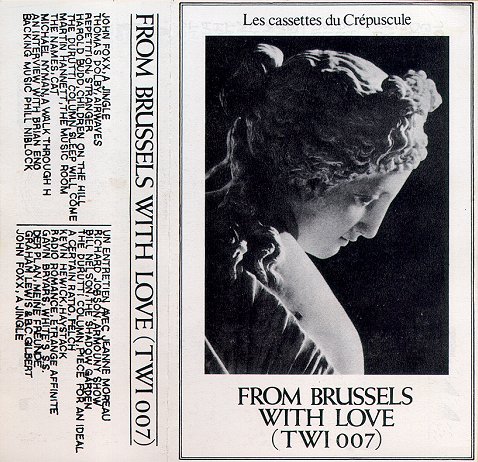 Possibly the rarest of any of my releases is this one. It was a (cassette-only) compilation released in 1981 by a Belgian label called Crepuscule. It included a demo version of 'Airwaves', recorded in my back room in London well before I got a record deal. I was approached recently by a company that wants to re-release it on CD and is trying to clear all the rights. I own the masters (unusual!) so I plan to say yes. The line-up on the album is terrific:
John Foxx
Duritti Column
Harold Budd
Richard Jobson
Gavin Bryars
A Certain Ratio
Martin Hamnett
Michael Nyman
An Interview with Brian Eno, etc
I have one copy of the cassette, resplendent in its soft plastic cover. But I don't own a cassette player so I haven't heard this recording of 'Airwaves' in years. It's probably quite amateurish, as I used a little Boss Dr Rhythm box for the drums: but I bet it captures the essence of the song. I admit I cringe a bit when I listen to the version on The Golden Age Of Wireless, which hasn't aged well: the production is far too 'AOR', with its chorused piano, glittering guitar chords and big drums. It was much better when I played it live. I regret not having had time to do a new arrangement of 'Airwaves' on this last tour. Maybe in the Fall?