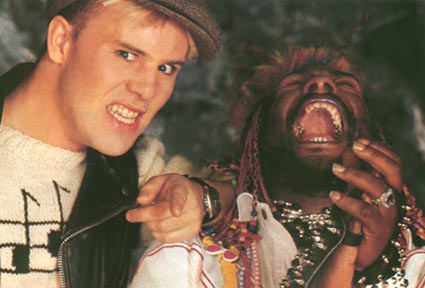 I'm excited to be playing a gig in NYC on June 17th on the same bill as George Clinton. It's been a while since I saw George. We first met on the set of Saturday Night Live in 1985 and he invited me to jam with Parliament/Funkadelic (someone recently posted a hilarious video clip from that performance here.) We instantly hit it off, and Geroge asked me to visit him in Miami where he was making an album 'Some Of My Best Jokes Are Friends', to which I contributed a couple of co-productions and a very white-boy rap. He is a wonderful man to work with–you just want to play for him, finetuning the groove until it drops into 'the pocket' so that big grin spreads across his face and his ass starts wiggling.
While we were in Miami he and his wife took me fishing. A fishing trip with George works like this: (1) Charter a large high-tech fishing vessel (2) Grab a massive boom box, some cassettes of last night's rough mixes, and a big bag of weed (3) Trail about 22 fishing lines behind the boat on electric winches (4) Set the radar fishfinder (5) Spliff up, chill out, fall asleep with a fat groove on auto-repeat (6) Tell the skipper to wake you up when there's a fish on (7) Spring into life, hit the buttons on all the lines and reel in a 20-lb tuna (8) Throw it in the ice chest and repeat. We were fifteen miles out but still within sight of Miami's skyscrapers. The skipper just CB radio'd his friends on the other boats and if anyone found a school they all congregated in that location, trawling their electric lines. It all seemed a bit unfair on the fish.
George told me a story about the time he and Bootsy Collins were fishing in the Bermuda Triangle and they thought they were being abducted by aliens. This is deadly serious. They were skirting round a big storm and suddenly there was a bright gap in the clouds. Then big blobs of mercury started falling from the sky and exploding on the deck of the boat. Blinding lights were dancing around the boat's antennae. They must have thought the Mothership was finally coming for them. You can just imagine Bootsy yelling out "I'm here my brothas! Take me!"
Now, at the the time I felt this encounter was probably of a pharmaceutical, rather than an extraterrestrial nature. However since then I've become quite an avid sailor myself and I've seen things that make me think George's story has some validity. Phosporescence in tropical waters is often other-worldly. Tiny luminescent plancton looks a lot like mercury with a light green tinge. In a squall the tops of waves are whipped up into a foam that sometimes blows on deck. On top of that, St Elmo's Fire is an electrical phenomenon that causes bright lights to spark in the rigging. Some or all of these factors may have contributed to their experience. Through unnaturally dilated pupils, it must have been quite a show.
We'll be playing at the Exotic Erotic Ball in New York on June 17th. As it stands we're playing separate sets, but if I'm able to get in touch with George maybe we can jam together a little. There's a few options: apart from the songs I did with George, he sang on my song "May The Cube Be With You" and we kind of co-wrote "Hot Sauce" from my 3rd album (it was an outtake from 'Jokes' that I added some lyrics to.)