It's been far too long since I blogged. I'll make this a long one and hope to make up for my silence somewhat!
January was a crazy month. I was a single parent as my wife was abroad due to an illness in the family. So I was looking after two teenagers and ferrying them around the countryside to their busy social engagements, while England froze in a blizzard. And I was trying to prepare for TED, on what turned out to be a broken, brand new MacBook Pro. Apple managed to swap it out for me at the last moment, leaving very little time to work on the string arrangements. But you don't need to hear all that.
TED 2010 was fantastic. As I've explained in the past, as well as helping book the 'named' talent for TED, I usually put together a house band who play a short piece to open each of the 12 sessions over the 4 days of TED. The intro pieces set the tone for the session, and provide some consistency and counterpoint to the stream of wildly varied speakers. My house band this year was Ethel, a progressive New York-based string quartet. They played TED as featured performers four years ago, and I have done a couple of gigs with them since. They're extremely expert classical players, but with a good feel for rock, folk and jazz, and very willing to improvise or tweak arrangements on the fly. We agreed to divide up the arranging tasks between the five of us, giving everyone a couple of shots at it. They were keen to come back to TED and put in the time to rehearse with me, even though no TED performers get paid. They're very patient to put up with my lack of music theory. I can barely read music and have to read their scores at a snail's pace. Thankfully Logic can render my sequences as music manuscript, so we were able to correspond remotely using email, FTP and MP3 rough mixes.
My plan was to play cover versions of iconic rock songs, arranged for strings and electronics. I wondered what an aggregate iPod playlist might look like for the TED audience. We came up with a list of a fifteen or so songs that would work well to our lineup, and filtered them down. Some were rock classics, and some were made famous by TED alumni. Here's a list of the songs we ended up with, along with some notes about the arrangements.
BITTERSWEET SYMPHONY (The Verve.) We opened the entire show with a lone bagpiper—more on him later!—way up in the Gods, and the 4 Ethels a level below him, spread along the front of the Loge. They built up the familiar string riff that drives this song, canon-style, while I conducted with a baton from a kind of raised balcony off to one side of the stage. Then I brought in a thumping groove sequenced in Logic, with grand piano and a soaring lead synth over the top.
HIDE AND SEEK (Imogen Heap.) Imogen played at TED Global in Oxford this past July, as well as appearing at Monterey with Frou Frou five years ago. I decided to tackle a string quartet arrangement of her song which was more of a challenge than I've ever taken on with strings. The original uses block chords of vocal harmonies with lots of what I'd call 'crunch' chords, ie ones with notes only a tone or a semi-tone apart, which don't always sound great on strings. I did a version at home using samples (from the excellent East West string library) and it was sounding pretty fine. I sent it to Immi for her approval and thankfully she was into it. It sounded even better when Ethel played it, and I added a kind of Celtic whistle and hand drum to the 'hey what you say' section, though I had to layer in a pad behind some of the chords to make them complex enough to match the original.
KASHMIR (Led Zeppelin.) I think it's safe to say this took everyone by surprise! I played drums on my TriggerFinger, using John Bonham samples of kick, snare and hat from the intro to 'When The Levee Breaks'. It felt great to give my inner drummer a workout. Ethel cranked out the chords and Robert Plant's vocal line was played with Mary Rowell's demented gypsy violin.
ELEANOR RIGBY (The Beatles.) At 8.30 in the morning, you want something quite familiar and easy on the ear. Ralph from Ethel had gotten a hold of George Martin's original music, so all I needed to do was add a couple of sounds to cover the lead vocal parts. I went for a kind of choiry sound in the first verse, and wailing lead guitar in the second.
CLOCKS (Coldplay.) The arpeggiated main riff lends itself pretty well to strings. Violinist Neil Dufallo covered the arpeggios, doubled by a synth, while Dorothy Lawson pumped the bass line. I picked two ethereal lead sounds to simulate the vocal.
BLUE MONDAY (New Order.) I had a harder time convincing Ethel this was a good idea, being very much an 80s electronic dance thing, but in the end it provided a nice contrast to the others. I started off by thumping out the kick drum intro on the carbon fibre body of Dorothy's cello. In came the pulsing octave bass part, which is quite a physical thing to play for three minutes on cello and without drums. The strings and choir parts were played by strings, and I sang the verses with a vocoder and headset mic.
NOTHING BUT FLOWERS (Talking Heads). We were joined onstage by none other that David Byrne himself. He had given an excellent talk a day earlier. Before the show he'd said he was 'not really in music mode' but once his talk was out of the way he happily joined us for an exotica-tinged cover of his song. I'd programmed a birdsong loop, bongos and a sinewave bass. I played some pedal steel samples I lifted from a song on my own album, which were played by Bruce Kaphan, who as it turned out formerly toured with David! We ran it through once in the dressing room before taking to the stage. With the first note out of David's mouth there was a delighted round of applause from the audience. 'Flowers' is a perfect TED song, melodic and laced with irony but somehow ultimately optimistic.
FAST CAR (Tracey Chapman.) I found a lovely Omnisphere patch to play the repeating guitar part with, and ths strings filled in the chords, adding a Philip Glass-like ostinto from time to time. The result was quite mesmerising.
WHILE MY GUITAR GENTLY WEEPS (The Beatles.) The amazing ukelele player and YouTube phenom Jake Shimabukuro had already wowed the TED audience with his sensitive virtuoso brilliance. I sat this one out and Jake led Ethel in a great rendition of the George Harrison classic.
A CHANGE WOULD DO YOU GOOD (Sheryl Crow.) Sheryl had played this herself at TED two nights earlier, on acoustic with longtime cohort Tim Smith. Our version featured a number of samples of the word 'change' lifted from different sources (Barack Obama, David Bowie, Tears For Fears etc) fired by my TriggerFinger, with fiddles cranking over the top, and an outrageous slide guitar solo sound played on my Nord.
The remaining two pieces were originals:
Andrew Bird, who had played an excellent solo set earlier, joined us onstage for his song 'Tables And Chairs', and I switched to glockenspiel, which I don't believe I've played since kindergarten! Andrew's music is truly original and he's a wizard with a loop box. Poor guy was completely spaced having just got off a plane from China, but he couldn't miss the TED talks so he barely slept a wink. But the TED crowd loves to be introduced to new music and he went over very well.
And finally, I played a brand new song of my own, entitled 'Love Is A Loaded Pistol.' I only recently completed this and I've been getting ready to record it for my album. It's a very retro piece, piano and vocals plus strings, with no drums. The vocal goes from very low to very high and it was quite intimidating to debut it in front of 1800 TEDsters, and potentially millions more out on the web. But it's a song that tells a story, and I think I managed to get the story over in a way that did it justice. I set it up by telling them about the Nutmeg, my restored lifeboat studio, and flashing a few pics on the giant screen. Playing it with Ethel was like being wafted along on air.
After the four exhausting days of TED were over, we went to a local studio run by an old friend Chuck Mitchell, and recorded our 10 pieces for posterity. We managed to get them all down despite the onset of the familiar post-TED hangover. Perhaps I'll include them on a TED house band compilation CD one day; and perhaps 'Pistol' will go on my album as-is.
It was an amazing week for speakers as well, with some of the highlights including Bill Gates, Eve Ensler, James Cameron and Sir Ken Robinson. And the music was rounded out by Natalie Merchant, who played some lovely poems she's recently been setting to music; Sheryl Crow, ever the crystal-clear rock songstress, who made a longtime fantasy come true for me when she asked me and Mary Rowell up on stage to join her for 'Home', the best song IMO she's ever written.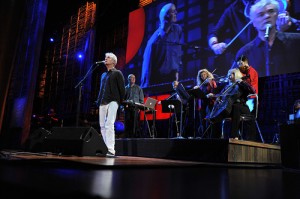 David Byrne joins us for '(Nothing But) Flowers.'
TED 2010 House Band L>R Thomas Dolby (keyboards); Ralph Farris (viola); Mary Rowell (violin); Dorothy Lawson (cello); Neil Dufallo (violin).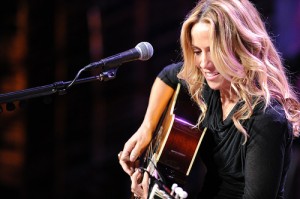 Sheryl Crow
Andrew Bird
Natalie Merchant
Jake Shimabukuro
(all pics thanks to TED /James Duncan Davidson)