Friday, July 30th, 2010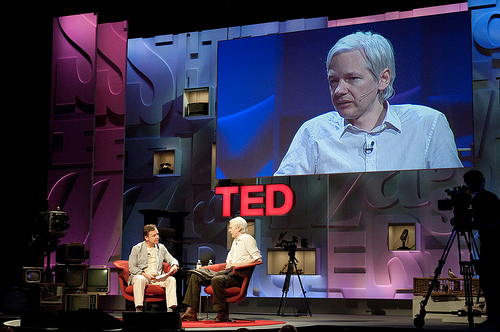 Reading all the furore about WikiLeaks and its mysterious frontman Julian Assange, I feel compelled to tell this story about a recent dinner conversation I had with with him.
It was at a private 'do' at a restaurant in Oxford right after TEDGlobal earlier this month. Julian slipped in to the party uninvited, plonked himself down opposite me and ordered some fish. Just that morning he'd given a candid interview to Chris Anderson on the TED stage in which he'd quite convincingly defended Wikileaks and its right/obligation to publish leaked military secrets that, some could argue, put lives and reputations in unnecessary peril. A cloak of secrecy surrounded his visit to the conference and even the TED production team had been kept in the dark about the identity of our surprise final day guest.
Julian Assange is a slender 6′ Australian with a flock of white hair. He cuts a striking figure in a white dress shirt, sneakers and jeans. It struck me that this charismatic guy who's Public Enemy #1 in the eyes of several large and deadly organisations — not least the CIA — might do better to dye his hair brown and wears specs and an anorak. Sitting across the table from him, I half expected to see a tiny red laser dot dancing across his white shirt. In fact, if you're going to stick around overnight in a city where you just made a controversial public appearance that was instantly tweeted all over the blogosphere, why not just paint a big red target on your back?
I asked him if he fears for his life. "All the time," he said, "but if it comes I hope it comes quickly". (I'm recalling this as accurately as I can.) "Just today after my interview at the Playhouse Theatre, I walked down the street to my hotel, tightly surrounded by a crowd of people wanting to congratulate me, or heckle me or whatever. I got to the concierge desk. As I was waiting to pick up my bag I felt a strange itch on the back of my neck. I felt for it and shit! it was a Band-Aid I'd never seen before. Christ, I thought, this is not good, this could be the bloody end right here, and I looked around for someone scurrying off into the shadows. Did I feel okay? yes, but…. then I realised. It was the sticky tape from the wireless headset microphone I'd just worn for the TED interview."
Julian Assange left our post-TED party and reportedly gatecrashed another, leaving that one early by the emergency exit, setting off the alarm, choosing a dark back alley to make his escape in preference to the brightly lit Oxford main road. He says WikiLeaks is underfunded. I only hope the company has room in its budget for a little Kevlar in its CEO's wardrobe.