Tuesday, April 27th, 2010
A bizarre character called The Lost Airman dropped in on a London gig Saturday night by Evelyn Evelyn, Amanda Palmer and Jason Webley.
And who was that masked man? The audience gasped as he tore off his false 'tache and eyebrows, popped out the zombie contact lenses, and shed the Galliano coat; then Amanda said "It's Thomas Fucking Dolby!" And the audience (mostly under 40) didn't know who the hell Thomas Dolby was either. Never mind, I thought, and launched into an impromptu 'New Toy', which I wrote for the original, seldom-credited punk cabaret diva Lene Lovich. Amanda took a good long sniff of her armpit and blasted out a great version of the song, as Jason strummed.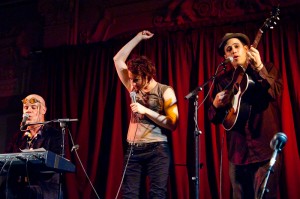 Here's a fan video clip of the song, which we managed to pull off without bass and drums.
Many thanks to @karohemd for the pics!