Tuesday, July 28th, 2009
Some pics from TEDGlobal in Oxford last week, copyright TED/ James Duncan Davidson.
Imogen Heap turns the audience into a human looping machine while jamming on the Hang drum.
Matthew White, euphonium impresario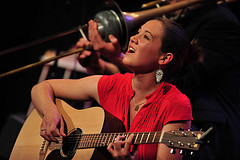 Sophie Hunger, Swiss singer-songriter
The Radio Science Orchestra. Centre is Lydia Kavina, niece of Leon Theremin. To right is Bruce Woolley. I later joined them for my song Puls Kosmosa.