Sunday, May 24th, 2009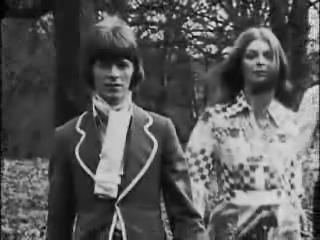 The mystery song I played on my Wired podcast was in fact by David Bowie. 'Letter To Hermione' was on his 1969 album Space Oddity. A few people got it right but no postcard has arrived at the Nutmeg of Consolation (I'm relieved to say) so no jaffa cakes for you!
Backstage at Live Aid a few minutes before we went onstage, Bowie jokingly asked what we should play if we got an encore? The band had only learned four songs and anyway with the tight timing encores were out of the question. I quipped that he should whip out an acoustic and play 'Letter To Hermione.' "Hmm, that might be a bit of a floor-clearer", he replied.
The tune is notable because in my opinion it's the only song Bowie ever recorded in which he allows himself to be truly vulnerable. These lyrics are intimate and conversational, whereas his lyrical trademark involves layers of idiom, street-speak and rock'n'roll/drug imagery.
He reputedly wrote it for Hermione Farthingale, pictured above. But to me, and probably to thousands of his teenage fans at the time, this song was about MY first girlfriend that dumped me. (Ricky Gervais loves this song and included it in his Desert Island Disks, I wonder if he had the same experience?)
Her name was Becky. We met on a sailing trip on the Norfolk Broads aged about 14. She had long raven-dark hair and a voluptuous figure, and I was completely besotted with her. She lived in a posh part of North London. I remember making the trip to Belsize Park tube station dozens of times because they took your ticket at the top of the elevator so I used to skip out of paying by sneaking up the emergency stairs to the street. This was a long sooty spiral staircase–we're talking something like 484 steps, it being one of the deepest tube stations in London. One time I got all the way to the top step only to find myself face to face with the grinning ticket collector. Terrified, I started to trot pointlessly back down those 484 steps with his booming laughter echoing after me.
Frankly, Becky was out of my class. I showed up at her house one time and her big sister answered the door. As I stood there in the pouring rain she told me that Becky didn't want to see me and had gotten back together with her previous boyfriend who I knew was 17 and good-looking.
"They say your life is going very well
They say you sparkle like a different girl
But something tells me that you hide
When all the world is warm and tired
You cry a little in the dark
Well so do I….
He makes you laugh
He brings you out in style
He treats you well
And makes you up real fine
And when he's strong
He's strong for you
And when you kiss
It's something new
But did you ever call my name
Just by mistake?"
[Ha! Just found this pic of the emergency stairs at Belsize Park. Apparently it was used as a bomb shelter in WW2.]