Thursday, March 22nd, 2007
The Vegas gig was remarkably good. For a start, hats off to the Cannery Casino who have built a beautiful music venue, with first class sound and lights and a highly professional crew. The indoor auditorium holds a few hundred in comfort, but electric glass doors open up the large outdoor patio for larger shows that acommodate 2000. They don't usually have live music on a weekday, and usually the choice is confined to tribute bands and oldies style acts; but buyer Kathy Spehar took a chance on bringing me in on a Wednesday, and what she got was a pretty full house and (I hope) a great show that brought the Cannery something unusual with a high credibility quotient.
This being my first ever Las Vegas concert, I must admit I felt quite self-conscious walking on stage. A portion of my audience presumably were simply casino guests that had wandered into the club for a little evening entertainment. Were they expecting an underlit magician surrounded by girls in sequinned leotards and peacock headdresses? Within a few square miles of me a large number of technically superb singers, dancers and comedians who devote their life to their particular 'art'— whatever you may think of it—were also taking to the stage. How could my modest technical skills in those areas possibly stack up? I mean, the $200 a night guy with a mic and a MIDI piano at the raised central bar of the casino could play like Oscar Peterson and sing like Stevie Wonder. And here I was, the headliner, with my name 30ft tall on the highway, barely able to play a scale or sing a full chorus perfectly in tune.
I had to remind myself was that what I do is completely unique. You won't find it on any other stage in the world, especially not in Las Vegas. So I just did my regular show, sang my songs and told my stories. And in the middle of Sin City it must have seemed like a little oasis of calm, cool music and visuals, with a wry English understatement And LV is becoming way more stratified these days in its efforts to appeal to wide audience, so why the hell not?
Johnny's video projections have never looked better. The spacious stage had large screens at the back and also to each side; and the house lighting guy—don't know his name but Don will be pleased to hear he does the lighting for Rush!—was world class. The onstage monitor system was more powerful than many of the front of house PAs we've been playing through on this tour. I think it was a bit of a shock to the Jazz Mafia Horns to be able to hear themselves with such clarity!
My friend Jonathan Deans and his wife came down, and he was not the only Vegas sound guy in attendance: several audio pros from other venues came down to check me out, many of whom use my CDs (especially 'Aliens Ate My Buick') to tune their own speakers. This put the pressure on Clif Brigden, who is mixing my front of house sound on this tour, to deliver the goods. He was very pleased with the sound and got lots of compliments. He was even interviewed by a pro audio magazine, which he found quite amusing because as he himself admitted' "I don't really know anything!" He's downplaying his skills there, as he's been doing a sterling job under difficult circumstances.
With the help of the local staff we loaded up the bus in under half an hour after the concert. Everybody checked out of the their hotel rooms and onto the tour bus, which was due to leave at 3am. At midnight we met at the front entrance and an enormous stretch limo ferried the eight of us to the Wynn Hotel, where Jonathan had arranged for our names to be on the door at The Lure night club. This was a torrid affair with open-shirted Vegas high rollers chatting up by silicone-enhanced blondes, and sipping their $60 cocktails. We were shown to a lounge area outside and shared a bottle of Bourbon that was the cheapest item on certainly the most expensive drinks menu I've ever seen! But we got to toast each other for a great tour that's covered a huge variety of different venues, all the way from the fabulous TED Conference, to a tent in Texas, to a tech company cafeteria.
The plan was to drive overnight and be in the Bay Area around lunchtime so the horn players could pick up their cars before tonight's final gig north of San Francisco. But I awoke in my bunk on the bus in the early hours and realised we'd been at a complete stop for some time. It turned out a water truck only three vehicles ahead of us had clooided with a ten-wheeler semi, and the road was completely blocked for four hours while the services cleaned up the mess. This has put a wrench in the works, and we're now hustling up Highway 5 hoping to get to Fairfax by 6pm in time for a load-in and brief soundcheck. Traffic permitting, we'll probably make it in the nick of time. Larry our bus driver is a good ol' Texas boy and has been an absolute trooper throughout.
And so will come to a close this excellent March mini-tour. I think the audiences have loved hearing my electronic stuff with the new and exotic live horn arrangements. There's been a great cameraderie on the bus, though Lunesse, we've missed you like crazy! I'm looking forward to some rest, and catching up with my wife and family.
Net loss at Texas Hold'em table: $134
One bottle of Jack Daniels and a few cokes at The Lure: $480
Cup of tour bus coffee hand-ground by my old mate Clif in a pepper mill: Priceless.
The Lure has a 2-bottle minumum. Thomas scans menu in vain for a bottle under $400. Clif is visibly disturbed.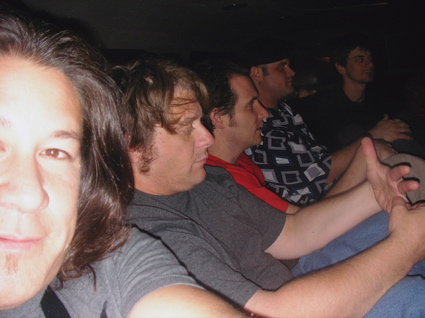 In the limo (L to R): Rich—trumpet; Mike—keyboard tech; Adam—trombone; Joe—sax; Justin—backline/merch.